Preparing Victims for the Release of a Federal Offender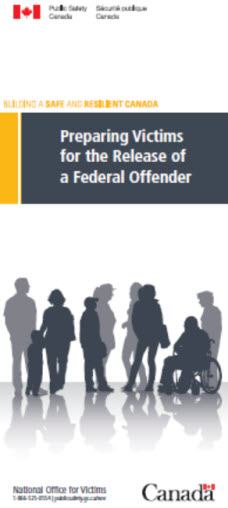 Adobe Acrobat version (PDF 127Kb)
Assisting the safe reintegration of offenders into the community and imposing release conditions are important parts of protecting public safety. The vast majority of offenders complete their supervision period without incident. As a victim of a federally supervised offender, you may have specific safety concerns as the person who harmed you approaches the eligibility date for their release into the community.
If so, here are some things you may want to consider:
Staying informed
You can request information about parole eligibility and/or release dates, request to attend parole hearings and copies of parole decisions by contacting Correctional Service of Canada (CSC) or the Parole Board of Canada (PBC) and registering to receive such information. You may also request to receive additional information about the offender who harmed you. If you do not want to have direct contact with CSC or PBC, you may appoint someone you trust to represent you in communicating with them.
To register to receive information, contact Correctional Service of Canada at 1-866-806-2275 or visit csc-scc.gc.ca/victims-victimes or contact Parole Board of Canada at 1-866-806-2275 or visit pbc-clcc.gc.ca.
Advising corrections and parole authorities of your concerns
You or your representative may ask CSC/PBC for conditions to be placed on the offender such as: no direct/indirect contact with you and/or geographical restrictions. Conditions are not automatic and must be requested in writing. You can also contact the offender's parole officer and/or CSC Victim Services or PBC Regional Communications in your region to express your concerns.
The information you provide will be considered along with all other relevant information within a risk assessment framework.
Notifying local police
You may advise your local police agency about the upcoming release of the offender and keep the police complaint number handy for future reference. Police services can help in various ways to assist in safety planning; for example, your address can be flagged for 911 priority responses.
Developing a safety plan
Local police and victim serving agencies can assist in preparing thorough safety plans based on your specific needs and circumstances. Start early and plan ahead for the offender's eventual community release. Your safety plan should be personalized to your situation and continuously updated. Safety planning should include personal security measures at home and in public. There are important safety measures to be considered when children are involved and your local victim services can assist you in planning for their safety. You can search for your local victim agencies by visiting http://www.justice.gc.ca/eng/cj-jp/victims-victimes/vsd-rsv/agencies-agences.aspx.
Applying for a peace bond
A peace bond (section 810 of the Criminal Code of Canada) is a court order that allows a judge to place conditions on someone (for example, restricting an offender's contact with specific individuals). A peace bond is not automatic. It is recommended that victims who plan to apply for a peace bond to do so well in advance of an offender's release date.
Once granted, a peace bond can be in effect for up to 24 months, and may be renewed. You can contact your local police for more information.
Keeping records
You should maintain all documentation you have about the offender from police, courts and corrections/parole and record any unwanted contact(s). Unwanted contact may be direct or indirect; for example, through family, colleagues, friends, social media, etc.
Reporting new offences and violations
If you are aware of new offences committed by the offender or if you are re-victimized by them, report this information to the police immediately. If the offender violates the terms of his/her release conditions, you can report violations to the parole office or police.
Seeking community supports
In both small and large communities, informing trusted persons (such as friends, family, neighbours, co-workers and community services, in particular victim services) about your circumstances can help to protect your personal safety. In First Nations communities, consult with the Band Council or trusted Elders around options including: family/community/ case conferencing which involves all persons harmed by the offender, case workers and community leaders.
Date modified: